April has arrived and now that all the jokes are over, its time to turn our attention to something not so funny—flooding.  The saying goes, "April showers bring May flowers," however sometimes "April showers" can lead to serious flooding issues that may bring damage upon your home or property.  According to the National Oceanic and Atmospheric Administration (NOAA), "on average, flooding causes more property damage in the United States than any other weather related event.  It is a threat to life and property that can occur in any of the fifty states or U.S territories at any time of the year."  It is extremely important for both homeowners and businesses to not only be properly insured but also be aware of the serious risks that can accompany great flooding.

Flood watch =  Indicates there is potential for flooding to occur and one should stay alert.
Flood Advisory =  Normally issued for urban and small stream flooding.  Flooding that is occurring or expected to occur is not predicted to be a threat to your property.
Flood warning =  Flooding is about to happen or has already happened.  This type of warning is typically issued within hours of rainfall.
HOW TO BE PREPARED: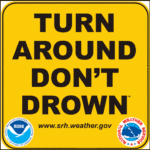 Flooding is a serious weather threat to anyone living in the United States.  It is clear that flooding can cause serious damage to you and your property. One must be prepared and educated about the steps they should take in order to not only be prepared for potential floods, but also how to act during one.  For more information on flooding, visit the National Weather Service website.