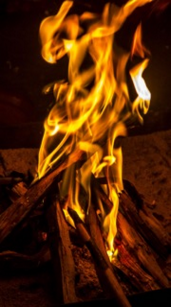 While it could still be chilly outside, you might have started to think about setting up a bonfire. But even the simplest outdoor activities could easily lead to a devastating outdoor fire, right in your backyard! So how do you avoid it?
Triage Restoration is a fire, water, and mold damage restoration company serving the Philadelphia area that can handle any emergency, disaster or destruction that comes your way.
Here are a few tips to avoid an outdoor fire:
Only use a grill outdoors – Seems like common sense, right? Well, not only should you use your grill outdoors, make sure it's is at least 10 feet away from your home or building, too. Also, don't turn it on if your grill is on a slanted yard. Move it to the porch or another flat outdoor surface where it won't tip over.
Never leave a grill unattended – You shouldn't be saying, "I'll just be gone for a minute" after you've fired up the grill. Make sure the grill is off and cooled before you attend to anything else.
Make sure your grill is working properly – If you haven't used your grill in a while, don't just start it up without checking that it's clean and functioning as it should. If you have a gas grill, check for tank leaks and make sure the hoses are clear. You can always refer to the manufacturer's instructions if you're not sure what to look out for.
Make sure you know how to put out the fire – Ensure you've got the tools to put out a fire BEFORE you start it. A water hose or a bucket of sand are safe ways to smother the flames, so check that they're nearby.
Don't store flammable liquids and firewood near your home – These kinds of items should stay at least 30 feet away from your home.
We're who to call when disaster strikes.
As a homeowner, you deserve to feel safe and secure and enjoy your space to the fullest. Follow the tips in this blog and you will be able to enjoy your time outdoors all year long.
If you do find yourself facing disaster, you know whom to call. Triage Restoration is the Philadelphia area's fire damage restoration team that won't let you down. Contact us today by calling 215-399-9590 and discover what it means to have Triage on your side.