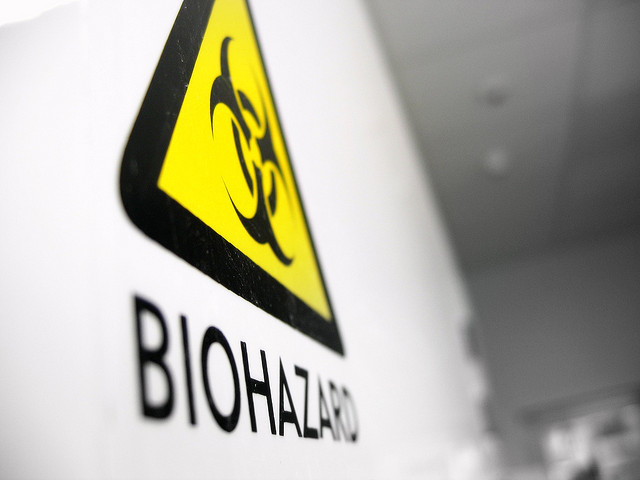 Photo Credit: Matt
If your home or business was the scene of a crime, a hoarding situation, or a contagious illness, you must call a Philadelphia biohazard restoration company to decontaminate and restore your property immediately. Are you thinking of doing it yourself? Stop right there! You won't be able to detect all of the hazards in your home, which is why it is necessary to have a professional handle the restoration. Personal safety equipment is essential when dealing with blood-borne diseases and harmful bacteria. Give yourself peace of mind knowing that proper measures have been taken, and that your family or your employees are safe and can use the space comfortably again.
When might you need a Philadelphia biohazard restoration service for your property?
Blood and body fluid remediation. After an accident, a violent criminal act, or some other traumatic event takes place on your property, there may be a lot of blood. Blood can spread to porous materials, such as concrete, asphalt, carpet, drywall, etc. To avoid this contamination, increased structural damage, and unnecessary trauma, you must contact a biohazard cleanup company as soon as possible.
MRSA decontamination. MRSA, or methicillin-resistant Staphylococcus aureus, causes infections in the lungs, skin, and other areas of the body. Unfortunately, MRSA does not respond to many antibiotics. Most MRSA infections are minor, but some can be life-threatening, so it is extremely important to decontaminate areas that have been touched by the bacteria, and to do so safely.
Crime scene cleanup. Cleaning up after a crime has been committed in your home or business can not only be traumatizing — it can be dangerous. Federal regulations regard all bodily fluids to be biohazards, so if there is any blood or tissue at a crime scene, it should be taken seriously. Handling biohazardous material is better left to an expert.
Advanced odor treatment. A horrendous stench is unacceptable in itself, but more often than not, a powerful odor is a sign that there are contagious pathogens in your home. Urine, feces, smoke, and death are just a few examples of odor sources. These odors can migrate through the flooring, insulation, ceiling below, and then to the floor below that. For both the safety and comfort of your family or employees, you must hire a professional to take care of the odor and source material.
Post-hoarder cleanup. A hoarder's house may be visually and psychologically fascinating, but it can also be very dangerous due to unsanitary conditions. You're going to need a professional Philadelphia biohazard restoration company to assess the situation and sanitize the home.
For superior biohazard restoration in Philadelphia, contact the one and only Triage Restoration. Our talented technicians have the proper protective gear and skills necessary to fully decontaminate and restore your home. Call us today at (215) 399-9590 to learn more about our services!