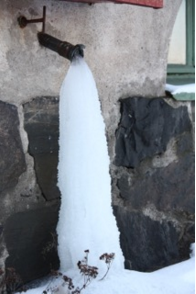 Image – morguefile
It may seem early to start thinking about freezing temperatures, but if you find yourself dealing with a frozen pipe problem in the middle of the winter, you don't want to be scrambling at the last minute to figure out how to take care of it. Frozen pipes can mean no water (cold OR hot), no working toilets, and if they burst you can expect thousands of dollars of water damage.
Burst pipes can be a huge headache, cause expensive bills and are basically a homeowner's worst nightmare. Triage Restoration is a Philadelphia water damage remediation company that wants to give you the proper knowledge to handle any kind of water problem this winter. We have the tools to help you if it happens and the tips to keep it from happening in the first place!
The Best Company for Water Damage Cleanup in Philadelphia
1. Prevention
As an experienced water damage restoration team in Philadelphia, we know that the best way to deal with frozen or burst pipes is to try to prevent them from freezing in the first place! Here is how to do that:
-Know where all your shut-off valves are and make sure they work!
-Identify any problem areas like pipes that are outdoors, in crawl spaces etc.
-Seal any holes or open spaces near your pipes. Even the smallest opening can let cold air in and increase the chance of frozen pipes!
2. Check The Weather
If the weather forecast calls for extreme temps ahead, there are a few things you can do to prepare:
-Leave a small trickle of both hot and cold water running. This helps your pipes stay active.
-Keep the house warm.
3. If The Pipes Freeze
Of course, even if you do your best, sometimes you just get hit with bad luck. Here's what to do if freezing cold got the best of your pipes:
-Turn of your main water valve to the house.
-Do not use open flame to thaw the pipes!
-Find the source and fix it! Call your go-to Philadelphia Water Damage Cleanup team for help.
Make Triage Your Water Damage Restoration Company In Philadelphia
If you find yourself with any kind of water problem in your home, you know who to call! Triage Restoration is a water damage remediation company in Philadelphia made up of licensed professionals with expert skills, so we'll be sure to give you the best quality service! We provide water, fire and biohazard services and many other services as well. So call today at (215) 399-9590!