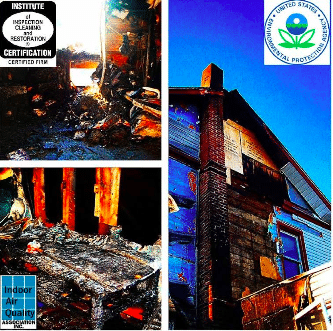 "I've worked on several projects with this remediation company and several projects with other remediation companies. I can say that Triage sets the standard on how difficult and invasive projects should be handled."
–Desmond Sheerin
The smoke clears. The fire truck drives away. Now you're left with a property scored by flames, reeking with smoke, the contents of your home or business possibly damaged beyond repair. The prospect can seem utterly overwhelming–and that's why you need the help of a fire damage remediation company.
When you're in need of Philadelphia fire damage remediation services, stop, take a breath, and call us: Triage Restoration is here for you, 24/7, and we know exactly how to help.
What Happens When You Call Triage Restoration for Philadelphia Fire Damage Remediation?
Your first step should be to call a Philadelphia fire damage remediation contractor. They'll know what to do next–whether it's safe to enter your home, how to protect yourself during cleanup, and how to get your life back on track. When you call Triage, we will respond to your call immediately–whether it's a home or business, a smaller one-room fire or total building damage.
Respond Compassionately. Plan Efficiently. Restore Peace of Mind.
How does Triage Restoration stand out from other Philadelphia fire damage remediation companies? To start with, we're a family business, committed to our community. We don't answer to any corporation or serve national policies: we're based in your area and know the needs of our community, and that means we can focus our customers' needs, and our own principles. Triage operates on three core values:
Respond Compassionately. We know that your situation is tough. For Triage, your safety–physical and emotional–is paramount. When you call, we will act immediately on your behalf while treating you with understanding. For every step of the remediation we will talk you through our restoration process, answer any questions or concerns, and keep you informed of our progress.
Plan Efficiently. Our experienced and certified technicians have a standardized care plan to handle all types of fire and smoke damage. Once arrived, they will "triage" your property, implementing efficient measures to restore your home or business to pre-loss conditions. We can perform all necessary services required to halt smoke and soot acidity penetration and structural restoration, including:
Smoke odor and soot removal
Structural repair
Carpet cleaning
Item inventory, storage off-site, and replacement
Art and other content restoration
HVAC cleaning
Restore Peace of Mind.
We try to make the stress of Philadelphia fire damage restoration as low as possible by being a one-stop shop for all remediation services, and by adhering to the highest industry standards in technician training and implementation. We possess the following certifications:
Pennsylvania Home Improvement Contractor #PA058874
Environmental Protection Agency (EPA) NAT #38974-1
Institute of Inspection Cleaning and Restoration Certification (IICRC) Company #204718
Indoor Air Quality Association (IAQA) ID #1261860
Women's Business Enterprise National Council (WBENC) #2005117794
When you need the services of a Philadelphia fire damage remediation company, call Triage Restoration at (215) 399-9590 or visit our website. We're here for you, 24/7, 365.