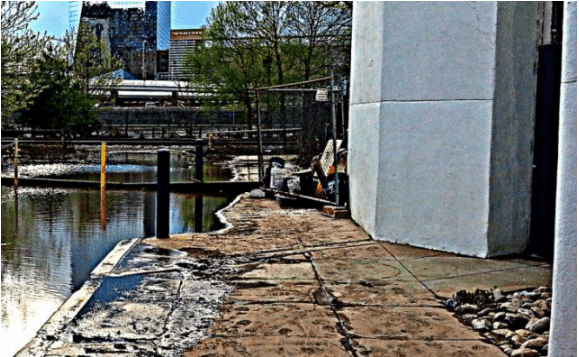 When you think "water damage," what images immediately come to mind? A flooded basement? Street drains overflowing with rain? Busted levees and refugees kayaking down the middle of the street?
It's true natural disasters can cause devastation—and even a thunderstorm that fills your basement can be incredibly costly. However, did you know that even an inch of water can cause over $10,000 of property damage?
At Triage Restoration, we've dealt with the damage from big floods, natural disasters, and busted water mains, but as your local Philadelphia water damage restoration experts, we've also seen the trouble and expense a small, hidden problem can cause. Here are three unexpected sources of water damage that might threaten your home, business, or property.
Three Water Surprising Sources of Philadelphia Water Damage to Keep Your Eye On
Blocked Gutters. They may be your least favorite chore, but any good homeowner should know a gutter clean of debris is vital after rainfall or snow. Your gutters direct water away from your property's foundations or basement. A blocked gutter can contribute to roof deterioration, cause flooding in your attic, or even allow water to seep into your walls. Mold will be the least of your worries.
A Cracked Washing Machine Hose. Did you know you are supposed to replace your washing machine hoses every five years? Over time, your hoses will deteriorate, leading to a failure that could cost you thousands of dollars in insurance claims and Philadelphia water damage restoration repairs.
Fridge or Dishwasher Leaks. When was the last time you checked under your fridge? Condensation, dripping water and slow leaks under appliances or sink cabinets can lead to some nasty surprises and costly floor damage.
Triage Restoration: the Philadelphia Water Damage Contractors for any job
Whether you've had a major flood or a minor toilet overflow, Triage Restoration can help you with cleanup, remediation, or water damage restoration in Philadelphia. We are a local business—not a franchise—which means we can respond to your calls quickly, we're familiar with the problems that commonly crop up in the Philadelphia area, and we're committed to community, not corporate, values.
We promise to approach all our clients with compassion, their property with respect, and their needs with efficiency. All our water damage restoration projects comply with the Institute of Inspection Cleaning and Restoration Certification (IICRC) S500 Water Restoration Standard. For more information about water damage restoration, or our other emergency restoration services, please visit our website, or contact us:
Email: info@triagerestoration.com
Tel: (215)-399-9590
Toll Free: 1-(877)-559-7876