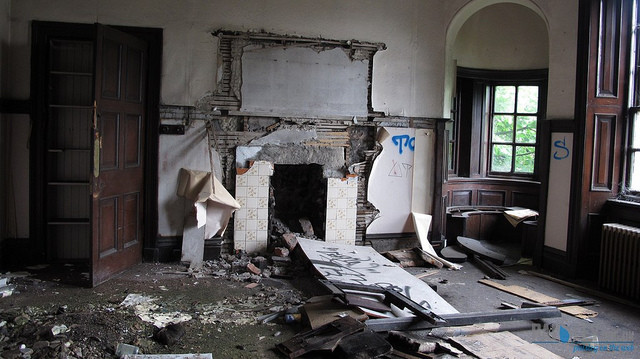 Photo Credit: Paisley Scotland
There's been a fire in your house. What next? After you've ensured the safety of you and your family, try to relax. All has not been lost! But before you enter the house and sort through the mess, take caution. There are many risks and health hazards in a fire-damaged house that must be removed. This is a task better left to a professional. Contact a Philadelphia fire damage cleanup crew to restore your home and keep you and your loved ones healthy and safe from harm!
What fire damage dangers should you be aware of?
Soot. After a fire, soot and other debris cover the floors of your home. Why is this so dangerous? Soot is a powerful lung irritant and can cause respiratory issues. Airborne soot, smoke, and other debris can get into your HVAC system and can be very difficult to remove. Traditional cleaning chemicals and techniques prove to be more harmful than helpful. Play it safe by hiring a Philadelphia fire damage cleanup company that specializes in soot removal.
Pooling water. Water is a lifesaver during fires, but what happens to all of that water once the fire has been extinguished? It creates a risk for electric shock, it becomes a slipping hazard, and it can bring about mold and mildew, which can cause heavy damage to the structure of your home and the items inside it. This is not something you want to deal with — you have enough on your plate! Leave it to a Philadelphia fire damage cleanup company to handle.
Structural damage. Depending on the severity of the fire, there could be minor or major structural damage in your home — a fire can easily weaken walls or joists. Before you get any repairs done, make sure your home has been inspected by your fire department, and if the structure needs restoration, you must contact an expert immediately to prevent further accidents.
Cleaning and restoring a home after it's been through a fire requires high-quality tools, experience, and effective techniques. All of this and more can be found at Triage Restoration, the Philadelphia fire cleanup company you need to restore your home! We excel in soot removal, professional deodorization, smoke odor removal, and structural repair, along with water damage restoration and biohazard cleanup. Don't forget to check out our fire prevention tips to help prepare you for these disasters — and avoid them! Give us a call at (215) 399-9590 to learn more.