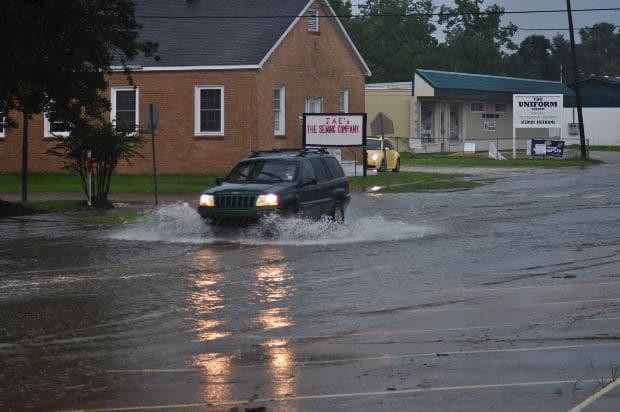 At Triage Restoration, we know Philadelphia water damage cleanup; you could say we're experts on the subject. That means we have a better idea than most of just how dangerous a flood can be to you and your home. Here's our guide for staying safe and dry during an extreme weather situation:
Flood Safety Tips from Your Philadelphia Water Damage Cleanup Team
Pay Attention to Current Events: We mean "current" literally. During an extreme weather situation, keep a close eye on local television, radio, and internet news media for information about the flood's development. These sources will inform you if an evacuation order is issued for your area. As the power may go out, be sure to have a well-charged smartphone or battery-powered radio on hand so you can still keep up with the news.
Prepare for Evacuation: When a big storm is brewing and there's a chance you may need to leave your home, it's smart to plan ahead. Discuss with your family where you will meet if you're split up. Pack a bag with any supplies you may need to take with you. At a minimum, your evacuation kit should include a change of clothes, prescription medication, and any important documents you want to keep safe. We also recommend you bring a first aid kit, food, and water.
Take the High Ground: During an evacuation, you will receive specific instructions from government officials. It is generally advised that you keep to elevated areas where the floodwaters don't reach. Avoid driving in flooded areas, and be on the lookout for downed power lines and other hazards.
Triage Restoration's Philadelphia Water Damage Cleanup Services
Once the storm is over, you will more than likely need water damage cleanup in Philadelphia for your home. This isn't just for cosmetic reasons! Floodwater is hazardous for you and your property, and you should always commission water damage remediation professionals like Triage Restoration to handle the mess.
Our services include:
IICRC S500 Standard
Emergency Water Extraction
Flood Cleanup
Sewage Cleanup
Drying and Dehumidification
Professional Deodorization
Anti-Microbial Application
We're available 24/7 every day of the year because we know Philadelphia water damage cleanup can't wait. The longer you hesitate to contact us, the more you risk permanent damage to your house. Triage Restoration has the experience and training to remediate your property after a flood, so get in touch with our trained technicians the next time severe weather wreaks havoc on your home!