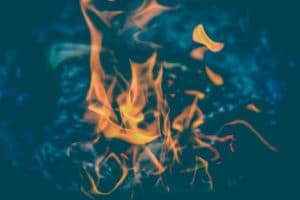 According to the U.S. Fire Administration, over 350,000 residential fires break out each year. While we hope there is never a fire in your home, these statistics illustrate that it's a scenario you should be prepared to face. And if you do experience a household fire, it's crucial that you and your family know how to react. The Philadelphia fire damage cleanup team from Triage Restoration has some essential safety tips for how to act during a fire:
Move Fast: As soon as you hear the smoke alarm blare, you should begin evacuating your home. Within minutes, a small fire can set an entire house ablaze, so it's important to exit quickly.  Of course, there's always a chance it's a false alarm—but for your own safety, you shouldn't wait around to find out.
Get Low: Smoke tends to rise, so when maneuvering during a fire be sure to crouch as low to the floor as possible. Smoke inhalation is a leading cause of injury and even death in fires, so staying close to the ground can save your life.
Feel it Out: When you approach a door during your evacuation, feel the door with the back of your hand before opening it. If the door is hot, that's a good sign there's flames waiting for you on the other side. If at all possible, you should find another exit, such as a window.
Stop, Drop, and Roll: If your clothes catch on fire, drop to the ground immediately. Once you are on the flor, roll back and forth until the fire is extinguished. If it's not possible for you to stop, drop, and roll, another option is to smother the fire with a blanket or towel.
Call for Help: As soon as you have safely exited your home, call 911 for help. To expedite the arrival of emergency services, clearly state your address, what is on fire (ex: a two story house), and if any individuals or animals are trapped inside the property.  
Triage Restoration: The Philadelphia Fire Damage Cleanup Team You Can Trust
A household fire is a very frightening experience. When the flames are extinguished and the smoke clears, it's important to choose a remediation company that will savage your property with care.  Triage Restoration is proud to compassionately and effectively provide fire damage cleanup for Philadelphia homeowners in need. Our specialized services include smoke odor removal, soot removal, professional deodorization, and structural repair.
Want to learn more about how Triage Restoration offers the highest-quality fire damage cleanup in Philadelphia? We can be reached at (215) 399-9590, or via our website.