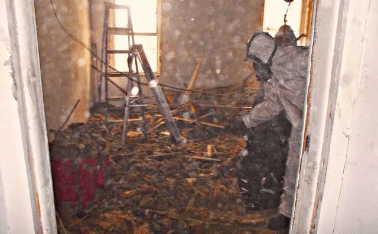 When you think fire damage, you probably think of flames: the way they rush a room, warping metal, melting plastic, and turning everything else into ash. Once the fire is out, and the firefighters have left, you might be tempted to think the danger is over. But wait–there's a hidden danger you can't afford to ignore: smoke damage. Even when visible smoke has dissipated, its lingering aftereffects are a profound risk to your health and property.
Why You Must Factor Smoke Damage Into Your Philadelphia Fire Damage Cleanup
In the midst of a fire, smoke is actually the greatest danger to you: often carrying deadly toxins, prolonged smoke inhalation can kill you in as little as three minutes. Once the fire is put out, smoke leaves an odor and an unpleasant film on all the surfaces of your home. This film is an additional complication in fire damage cleanup for Philadelphia homes, as it is acidic and will gradually soak into the structure of your home and possessions, causing them to deteriorate. Plastic discolors, metal tarnishes, yellowing will appear on appliances finishes and fiberglass. And because it is acidic, the odor generated by smoke film be extremely difficult to dispel.
It may be tempting to move back into your home as soon as possible, but structural damage from flames is often hidden from view. That and lingering toxic fumes and contamination from smoke make it unsafe to eat, drink, or even breathe anywhere touched by fire, soot or flames. Even a small fire can put your family in danger–you might think you can handle the cleanup yourself, but unless you have extensive experience, it's always best to call in a Philadelphia fire damage restoration specialist.
First Steps: Call for Professional Help
Once your family is safe, your first step should be to call a professional and certified Philadelphia fire damage remediation specialist like Triage Restoration. The longer you wait, the more the acid from smoke damage will penetrate the structure of your home and possessions. However, the experts at Triage know how to halt the damage, clean it up safely, and restore your home–and your life–to normal. We specialize in:
Property Salvage
Smoke Odor and Soot Removal
Structural Repair
When we come to your home, we will asses the damage, create a safe and efficient "triage" plan, and apply our extensive experience and state-of-the-art equipment and techniques to clean, salvage, and deodorize your property. While we might not be able to save everything, we will still treat your property with respect, and explain the reason for every action we take within your home. We understand how difficult coping with a fire and its aftermath can be, and we promise to treat you with a compassion and respect that goes above and beyond your expectations. Call us, 24/7, for a free estimate, excellent customer service, and the peace of mind that comes with expert help.