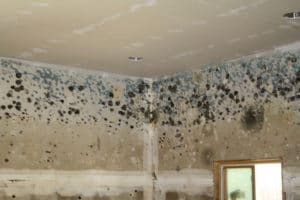 (Photo by carlpenergy, Flickr Creative Commons)
In our last Philadelphia Mold Remediation blog, we introduced you to the basic facts of household mold and how to prevent it from growing in your home. However, given the ubiquity of mold in the environment (an estimated 40% of schools and 25% of homes are infested,) it's vital that you know what to do if you discover a mold infestation.
How to Clean Up a Mold Infestation in Philadelphia
If you spot a mold colony early enough, you may be able to clean it up yourself before it requires the attention of a professional Philadelphia mold remediation company. It is very important to act quickly, before structural damage occurs.
Mold will only grow in damp environments, so start by eliminating the source of any moisture–whether a sweaty pipe, a leaky roof, or condensation from appliances. Once you've cut off the mold from its water source, you can begin the cleaning process by following these tips:
Only ever attempt to clean up a few square feet of mold. Anything larger, or difficult to get at (e.g. under your carpets or in your walls,) and you'll need the help of a Philadelphia mold cleanup expert. Otherwise, you risk contaminating other rooms or exposing yourself to dangerous conditions.
As some forms of mold are toxic or can irritate the respiratory system, you should protect yourself by wearing goggles, gloves, and a dust mask while cleaning.
On hard surfaces, such as in your bathroom, use a cleaning solution composed of ½ cup bleach, a splash of ammonia-free detergent, and 1 quart of water. (Never mix bleach with ammonia–this will create a highly poisonous gas!)
Use proper ventilation to ensure that all damp surfaces or area dry in 24-48 hours.
When Do You Need to Call a Professional Philadelphia Mold Cleanup Company?
In some circumstances, you will absolutely require the assistance of a professional to keep your family and your home safe. You should always call a mold remediation company in Philadelphia when:
a mold infestation covers an area of 10 sq. feet or more.
you find mold in or around your HVAC ducts or ventilation system.
the mold damage was caused by sewage or contaminated water.
the mold is in an area of the house that is difficult to get to, such as in your walls, ceilings, crawl space, or under your carpets.
you've attempted to clean up the mold yourself already and it has returned.
If you find yourself facing a mold problem that's beyond your ability to clean up, we're here to help: Triage Restoration is the Philadelphia mold remediation company with the experience, training, and expertise to handle it. Call Triage, 24 hours a day, 7 days a week, to find out about our IICRC S520 Standard mold remediation procedures that will ensure your home is clean, decontaminated, and safe.