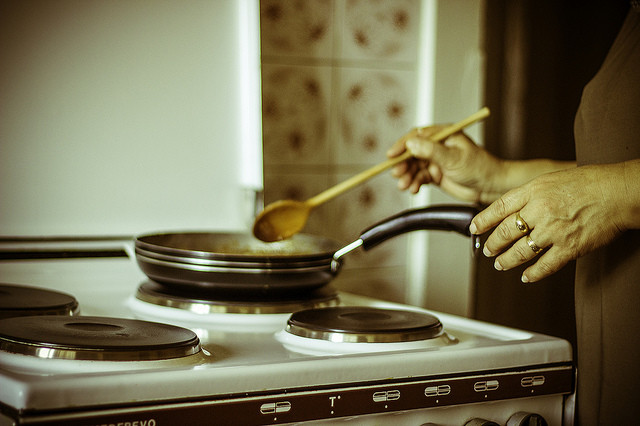 Photo Credit: Marjan Lazarevski
You've invited guests over for dinner, and the worst has happened. You've burnt the roast! As your spouse runs out to buy a rotisserie chicken at the grocery store, you survey the remains, and sniff suspiciously at the putrid odor. What is that?! You didn't see any flames or black smoke, so you're not sure what happened. We'll tell you!
Your kitchen has just suffered at the hands of a protein fire. A protein fire is smoke damage that occurs from the intense burn of a protein-enriched fiber, such as eggs left on a stovetop, or a forgotten roast in the oven. There may not be any noticeable damage, but there might be a sticky residue coating the surfaces of your home, and a foul odor that you just can't seem to get rid of, no matter how many times you Febreze! This odor permeates furniture and structures in your home even more so than other fires. Since protein fires usually occur in a small space of the kitchen, the odor can be pushed into floorboards, cracks in the wall — even electrical outlets! No wonder it's such a frustrating and confusing mess.
So what should you do if you have a protein fire in your home? Household cleaners won't do the job. The Philadelphia smoke damage restoration experts at Triage Restoration are here to help! Be sure to:
Keep your hands clean. If there's residue on your hands, you can easily soil walls, upholstery, and other parts of your home.
Cover your rugs and furniture with old sheets or some kind of protective shield to keep the smoke damage from spreading.
Contact your Philadelphia smoke remediation company immediately to inspect your home and get started on restoring it to its proper state!
Protein fires require a very thorough cleaning to get rid of the odor and residue. You need special training and equipment to make sure it's done successfully. Have no fear — Triage Restoration has the smoke damage remediation services you need to ensure that your home is thoroughly sanitized, restored, and smelling its freshest. Our smoke odor removal services won't disappoint! We also excel in soot removal, structural repair, and professional deodorization. Smoke damage is no joke, so choose a Philadelphia smoke damage restoration team that you know and trust. We also provide water damage restoration and mold damage restoration, as well as biohazard cleanup. Call Triage Restoration at (215)-399-9590, or email info@triagerestoration.com. We'll get back to you as soon as possible!