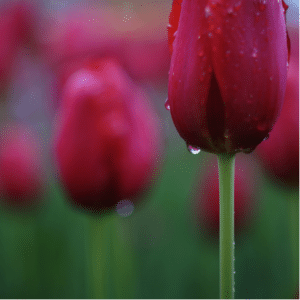 Photo: Takashi .M, Flickr Creative Commons
Spring has arrived, and soon weathermen will be proclaiming, "April showers bring May flowers!" But if your roof isn't ready for the weather, April showers may bring water damage instead. We've seen many cases of water damage in Philadelphia homes that could have been avoided with a little prevention. Here are some tips from Triage, your Philadelphia water damage remediation specialists, to keep your roof in shape and water out of your home.
Replace missing shingles as soon as possible

– The purpose of shingles is to protect your roof. Cracked, bent, and missing shingles are link chinks in your roof's armor, offering a way for the rain to get in.
Fix ponding surfaces right away

– "Ponding" refers to pools of standing water that appear on your roof after it rains. This concentrated water can make your roof vulnerable to rot and leaks.
Clean your gutters regularly

– This is a universally dreaded chore that homeowners tend to put off, but it is one of the most important maintenance steps for your home. Gutters carry rain away from your roof and siding. If your gutters are clogged, the water can back into the eaves and seep into the attic itself.
Inspect flashing around vents, chimneys, pipes, etc.

– Anywhere there is an opening or joint in your roof, there is a potential for leaks as your roof ages. Flashing is installed around these openings to prevent leaks, but if the flashing becomes bent, rusted, or loses its seal, it loses its efficiency.
Periodically check your attic for signs of leaks

– These signs include damaged or moldy insulation, rotting or stained boards or ceiling panels, and puckering, discolored sheetrock.
When Water Damage Strikes, Call Triage Restoration
The moment you discover water damage in your home you should call a Philadelphia water damage remediation specialist. If left untreated, water damage can lead to mold and even fire hazards in your home.
At Triage Restoration, we understand how greatly water damage can disrupt your life. That is why we talk you through each step of the Philadelphia water damage remediation process, address your questions and concerns, and keep you updated on our progress. Our compassionate technicians will quickly "triage" your home and return it to pre-loss conditions. We always treat your belongings with caution and respect, so you can have peace of mind knowing your home is in capable hands.
If you need the help of a Philadelphia water damage remediation company, call Triage Restoration at (215) 399-9590. Our emergency response services are available 24/7, so that we are always there for you in your time of need.