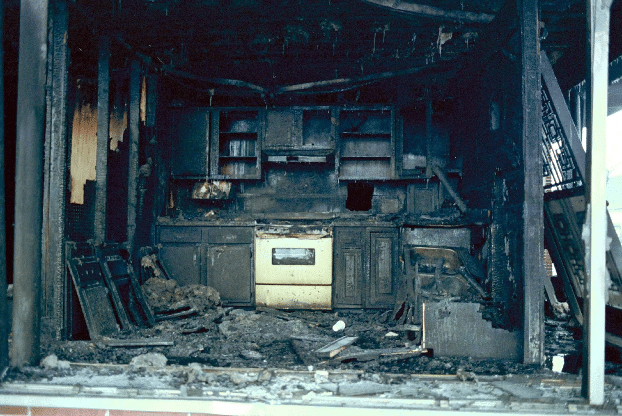 Photo by State Farm, Flickr Creative Commons
According to the National Fire Prevention Agency, 40% of home fires begin in the kitchen. Kitchens are the hearts of our homes: we spend a great deal of time in there, often working with high heat sources (such as stoves) in conjunction with flammable materials (cooking oils, wooden spoons, oven mitts, etc.) At Triage Restoration, your Philadelphia fire damage remediation company, we want to help you prevent house fires, protect your property, and keep your family safe.
Triage Restoration's Kitchen Fire Prevention Tips
Stay alert. If you're exhausted or have had too much to drink, it's best to avoid using the stove. Have a cold snack or maybe stick to the microwave.
Dress appropriately. 18% of cooking deaths involve clothing. Roll up your sleeves, and if you spill grease on yourself, change your outfit.
Never leave cooking unattended. This is the leading cause of kitchen fires. Be sure to set an alarm to periodically check slow-cooking dishes. If you have to leave the kitchen, turn off your range or broiler. A few minutes delay is far preferable to needing a Philadelphia fire damage cleanup company.
Clean your range, oven, and appliances regularly. Most kitchen fires start when food or grease ignite. Keep surfaces and burner trays clean of grease buildup, food splatters, and debris.
Watch what you put on your range. Keep anything that can melt or catch fire (plastic, wooden spoons, paper, etc.) away from your stovetop.
Install a smoke detector. A smoke detector can be annoying in small or poorly ventilated kitchens, but they can also save your life! Be sure to regularly test them to be sure they're working.
Turn off everything when you're done cooking. Get in the habit of checking your stove, oven, and appliances when you've finished cooking a meal, and before you leave the house.
How to Safely Put Out a Kitchen Fire
With a small kitchen fire, Philadelphia fire damage remediation company Triage Restoration advises following these steps:
Smother the flames with a pan lid. Don't lift it until the lid is completely cool.
Close the door on oven fires and turn off the heat.
Baking soda, not water! Never throw water on a grease fire—you'll just make it splatter and spread. Baking soda can effectively douse the flames—it's a good idea to keep an extra box nearby.
If in doubt, get out! More than half of non-deadly kitchen fire injuries happen when people try to put fires out themselves. If you aren't confident that you can handle a fire, get yourself and your family to safety and call 911.
Triage Restoration is Your Philadelphia Fire Damage Remediation Company
While these tips might prevent a kitchen fire, sometimes the worst still happens. If you've already experienced a minor or catastrophic house fire, Triage Restoration is ready to help you get your home and your life back. Give us a call, 24/7, and we'll respond with the compassion and expertise you need. From smoke and soot removal to structural repair, Triage Restoration is the fire damage remediation company in Philadelphia that you can trust to restore your home.