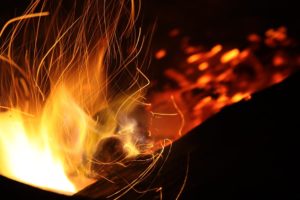 One of the biggest concerns you will face after a household fire is smoke damage. Though the flames may be extinguished, smoke will wreak havoc on your home unless dealt with properly.  That's where Triage Restoration, the leading Philadelphia smoke damage restoration experts, come in. We have the specialty training, equipment, and experience to handle even the toughest Philadelphia smoke damage restoration jobs. Here are some of our tried and true tips for effectively dealing with smoke damage in your property.
Safety First
Do not return to the premises until you've been given the all-clear by the firefighters. When entering your smoke-damaged home, be sure to wear protective gear such as gloves and face masks until you are positive that all lingering smoke has been eliminated. These measures help protect your lungs and skin Smoke can be harmful to your health, especially if you suffer from asthma or other respiratory conditions. In addition, proper ventilation will expedite the process of smoke damage remediation. Open the windows and doors to let in fresh air, and utilize strategically placed box fans to suck up excess smoke.
Time is of the Essence
Within minutes after a fire is extinguished, soot settles on your property. Within hours, your surfaces begin to acquire noticeable smoke damage. At this point, walls begin to discolor, furniture may require re-finishing, and metal starts to rust. Leave the site untouched for a few weeks? The smoke residue may be so embedded in your home that damage may be irreparable. That means it's crucial to obtain Philadelphia smoke damage restoration services as soon as possible after a fire.
Don't Be Afraid to Call for Help
Philadelphia smoke damage restoration is a challenging endeavor in the best of times. And when you're stressed out from a fire in your home, it can feel downright impossible. But you don't have to tackle smoke damage cleanup alone. Triage Restoration provides numerous smoke damage restoration services, including smoke odor removal, soot removal, professional deodorization, and structural repair. Our technicians are highly trained and certified by the Institute of Inspection Cleaning and Restoration and the Indoor Air Quality Association. That means you can count on us to quickly, effectively, and compassionately remediate your home.
Interested in hiring Triage Restoration? You can give us a call at (215) 399-9590, or contact us online through our website.