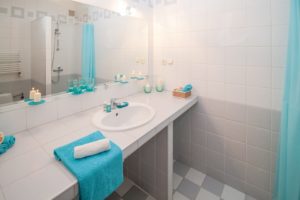 The bathroom may take up a small amount of square footage in your home, but it can play a huge role in home water damage. As a responsible homeowner, it's important that you understand how to spot bathroom water damage before it spreads. Read on to learn some tips from the Philadelphia water damage remediation experts at Triage Restoration.
Signs You May Have Water Damage in Your Bathroom
Mold Keeps Coming Back: A little mildew is inevitable in a bathroom. But if you find that mold keeps appearing despite frequent cleaning, you may have a bigger problem on your hands. When water pools behind tiles or walls, mold can grow from the inside out. No matter how hard you scrub, the mold will keep growing unless you obtain water damage remediation for your Philadelphia home.
The Floor is Unstable: Does your bathroom floor feel soft or spongey? While that may be comfortable on bare feet after a shower, this is actually a sign of dangerous water damage. When plywood floors are subject to excess water, they start to rot right under you. In the worst case scenario, the underlying floor structure will eventually collapse.
Mind the Gap: If you notice gaps in the grouting on your floors or shower tiles, beware. These gaps make it easy for water from your faucet or shower-head to leak and pool in places it shouldn't.
Walls are Out of Whack: When water leaks behind your bathroom walls, a number of warning signs will appear. The walls may swell and feel soft or damp to the touch. Plaster may crumble. Paint may blister. If the problem continues for long enough, your walls will eventually warp and buckle.
Triage Restoration: The Leading Name in Philadelphia Water Damage Remediation
When you experience water damage in your bathroom or in another area in your Philadelphia home, you may not know where to turn for help. We have a solution: Triage Restoration! Triage Restoration is available 24 hours a day, seven days a week, 365 days a year to respond to emergency situations. Our Philadelphia water damage remediation services include IICRC S500 standard, emergency water extraction, flood cleanup, sewage cleanup, drying and dehumidification, professional deodorization and anti-microbial application. We have the experience and technical skills to restore your home quickly and safely.
Interested in hiring Triage Restoration for your water damage cleanup needs? Give us a call at 215-399-9590, or get in touch with us through our website. We look forward to hearing from you!