The news surrounding drones, or unmanned aerial vehicles (UAVs), is buzzing to say that least. These aircrafts are either controlled from a pilot on the ground or have a pre-programmed mission.  Seems a little futuristic, right?  No pilots?  Preprogrammed missions?  What is this, *batteries not included?!
It is safe to say that drones have made their presence in our society, and it doesn't seem like this new fad will be going away any time soon.  What many may not know about this new trend are the various benefits that drones can provide to society. Particularly for homeowners, insurance companies, realtors, and even property management companies.  Now that we have experienced extreme winter weather, you might have had to deal with the aggravation of a burst pipe, water infiltration, or severe flooding.  Many insurance agencies receive a great deal of claims during this time of the year, and drones may have the potential of relieving fraudulent claims.  In addition, realtors and prospective buyers may have added benefits through the ability to see different views of a home with aerial imaging that drones permit.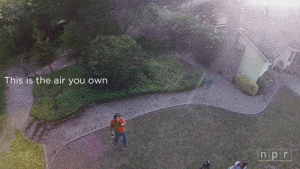 WHO CAN BENEFIT FROM DRONES?
1. Adjusters
Insurance companies receive many claims each year.  Whether a catastrophe has occurred or not, insurance companies are constantly sending adjusters to properties to investigate the issue of their claim.  However, this tedious and sometimes dangerous job that the adjuster must perform can be eliminated by the use of drones.  Drones have the ability to see every inch of a property with just the click of a button, and at much faster speeds.  This can eliminate the risk of accident or injury during the adjudication procedure.

2. Realtors
Simply put:  if you are a realtor, you want a drone.  Drones have the ability to fly over the entire property and can allow real estate agents to show their clients a much better view of their prospective home.  Not only can drones simply show the aerial view of the home, but they can also show the surrounding neighborhood and areas that the buyers may be interested in seeing, such as schools and parks.

3. Homeowners
When disaster strikes, homeowners are left feeling frustrated and anxious for a solution.  Making an insurance claim after severe damages to ones home can take time to sort out and solve. However, drones can speed the process of adjudication.  Drones can reduce the time it takes for claims to be handled due to the fact that drones can quickly inspect the property and use built in GPS locators to find insured locations.  This makes for happier homeowners and can guarantee customer satisfaction.

But before you go out and enjoy the benefits of drones, make sure you review the rules and regulations for these unmanned aerial vehicles!
What do you think about drones?  Are they a threat to personal privacy or do they benefit society if used correctly?  Share your opinion below.