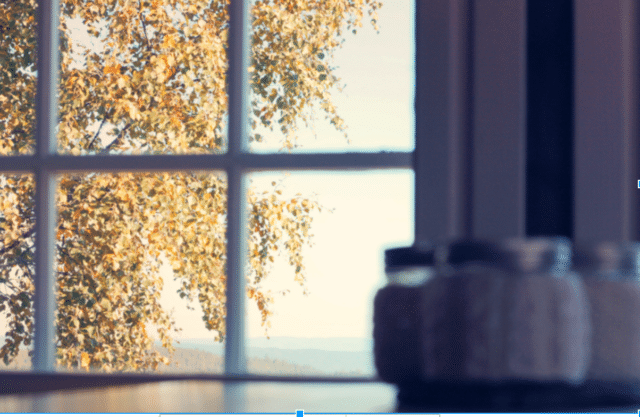 Most of us can agree that summer is largely a season of putting stress and to-do lists on the back burner and more of a time for vacations, relaxation, and fun in the sun. The air is warm and balmy. The trees are lush with bright green foliage. There's not much concern about chilly drafts seeping through the windows, and no one really has their mind on the threat of damp, heavy leaves overloading the gutters. Now that fall is upon us, however, it's time to take off the rose-colored sunglasses and take inventory of what needs to be done around the house in preparation for the changing weather. Let the home improvement projects begin!
What's with these windows?One of the wonderful things about autumn is the gorgeous outdoor scenery. Who doesn't love to lounge inside and gaze dreamily out at the multicolored treetops swaying in the crisp breeze? It's not quite so enjoyable when that crisp breeze seems to pass right through the windows, making the whole house feel like the inside of an igloo. Cracks or gaps around window frames could be the culprits, and single-paned windows are notorious for letting heat escape. Your best bet is to call a

Philadelphia contracting

company

for a thorough inspection. Triage Restoration can determine if the best solution is to caulk and seal any openings or if you're better off replacing the windows altogether. The results will be lowered heating bills and a warm, cozy home.

Stay on top of roof repairs! A roof with curling or broken shingles is not only an eyesore, it could be a sign that further damage lurks beneath the surface. Take a trip to the attic and look up—can you see daylight peeping through the roof boards? Is there a bit of a draft? If so, don't grumble and put off getting it fixed! It's crucial that you call in the professionals and have them make the necessary repairs. Our Philadelphia contracting company can repair or replace your roof before the cold, blustery winter arrives and makes small damages even worse. The last thing you want is a leaky roof when snow, ice, rain, and wind are in full force!
Unsightly siding needs to go. Your home's siding is like a shield that protects it from moisture and the elements. When that shield starts to look like it's warping or pulling away from the house, it's an indication that water has infiltrated and rendered it useless. For the sake of your home's appearance and structural integrity, heed the warning signs and get in touch with the siding repair company Philadelphia relies on for quality service. The pending cold weather should be a good incentive to get that "shield" back in good shape.
Kick Off the Season with Triage Restoration
We love autumn for its festive colors and refreshing chill after a hot summer, but it's also a great time to take care of home improvement projects before winter weather strikes. As a licensed and certified Philadelphia contracting company, we are well-equipped to get your house ready for the snow and ice that will come later in the year. Contact us for help with your home improvement projects and we'll be happy to set up a free in-home consultation. Enjoy the beautiful fall season!