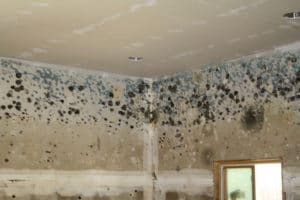 As a homeowner, you may experience mold growth from time to time. And of course, you want to remove that mold as quickly as possible. But do you need to hire a professional mold damage repair company? Sometimes, for very small jobs—think some mildew in your shower—private individuals can safely and effectively remove mold. However, in most cases, you should hire professionals such as Triage Restoration to deal with mold damage remediation for your Philadelphia home. Here are some of the reasons why you should give us a call:
Because the job may be too big for you to handle on your own
Sometimes, mold concentrates in one neat, visible patch. But most of the time you won't be so lucky. Mold is a living thing, and that means it can spread far beyond its point of origin to infest a major chunk of your home. In particular, if mold reaches dry wall, insulation, floors, or ceilings your home may suffer from major structural damage that requires expert repair.
Because you may need water damage remediation too
Mold grows in damp places, so it's no surprise a flood or a leaky pipe is a major culprit behind mold damage. However, in those circumstances, there is likely to be additional water damage to clean up beyond the mold growth. Triage Restoration regularly performs water damage remediation in addition to our mold damage services, so when you hire us get both sets of expertise.
Because Triage Restoration has the expertise to do the job right
Triage Restoration Philadelphia mold damage remediation services include IICRC S520 Standard, drying and dehumidification, cleaning and decontamination, containment and negative air and HEPA air filtration. Our specialized equipment and years of experience allow us to clear out even the toughest mold from your home.
Because your health is too valuable to risk
Mold isn't just icky. It can be highly hazardous to your health. Mold exposure can lead to an unpleasant array of symptoms, such as coughing, wheezing, and skin irritation. Some individuals, such as those suffering from a mold allergy or respiratory conditions, will experience more severe effects. Hire Triage Restoration, and you won't need to worry about getting up close and personal with the mold in your home.
Triage Restoration Provides Philadelphia Mold Damage Remediation You Can Trust
Need mold damage remediation in Philadelphia? Triage Restoration are the professionals you can rely on for all  your mold-busting needs. You can reach us at 215-399-9590, or online.