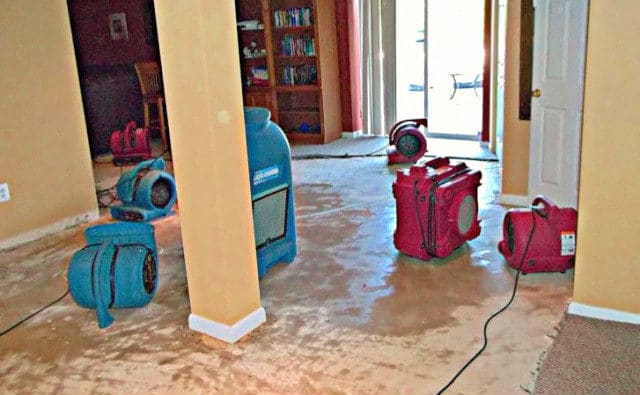 Fall is a picturesque time of year, boasting vibrant foliage, colorful pumpkins and gourds, and dramatic, overcast skies. It also comes with its fair share of wind and rain! This spells bad news for roofs and gutter systems that are old or damaged. The last thing you want during a blustery fall rainstorm is a soggy mess inside of the house! Fortunately, this Philadelphia water damage restoration company is available 24 hours per day, seven days a week to take care of crises like these. Our water services include:
IICRC S500 Standard
Emergency Water Extraction
Flood Cleanup
Sewage Cleanup
Drying and Dehumidification
Professional Deodorization
Anti-Microbial Application
A leaky roof or flooded basement can wreak havoc on your property and cause significant distress for you and your family. We understand the emotional toll this kind of disaster takes on homeowners, and we strive to provide prompt, courteous assistance to help restore peace of mind: that's why we are the water damage remediation company Philadelphia residents prefer. Just read the kind review of our cleanup service that we received from one of our wonderful clients:
"What seemed like a nightmare last night feels a little more manageable today thanks to the amazing crew. Dianne Crouthamel was amazing from my first text about my horrible water problem flooding my finished basement. Kevin and his guys have been amazing. Taking care of everything from moving furniture and clothes to removing all the wet carpets and flooring. Very helpful and working very clean, avoiding damage to the rest of the house. Thank you guys!" — Challie G.
When homeowners call us for Philadelphia water damage cleanup, communication is of utmost importance—no one likes to be kept in the dark during these stressful situations. We talk our clients through each and every step of the restoration process, answer all questions and concerns, and keep them updated on our progress so that at the end of the day they can say that they had a positive experience with our skilled and compassionate team, despite the unfortunate circumstances.
Call Triage for Water Damage Relief
Triage Restoration's trained and certified technicians work hard to return homes and businesses to pre-loss conditions as quickly as possible with our tried-and-true drying process. We use high-tech equipment, including low-grain refrigerant dehumidification and desiccant dehumidification when conditions allow. We also record daily air moisture measurements in the affected areas and compare them to the unaffected places in the building to best track results and drying time. We're known to have the best water damage remediation services Philadelphia has to offer, so get in touch the next time a fall storm wreaks havoc on your property!