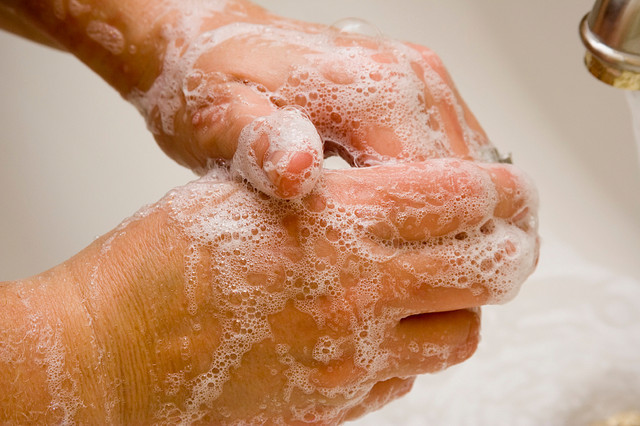 Photo Credit: Arlington County
Since a biological hazard, or biohazard, is defined as any risk to your health caused by biological work, it's safe to say that you encounter biohazards every day of your life. There's no getting around it! Infectious agents can be transmitted directly or indirectly — either through physical contact or inhaled through the air. Some biohazards are more dangerous than others, and although you can't always predict or prevent exposure to a biohazard, there are some ways you can help protect yourself from direct exposure and contracting infections. Your trusted Philadelphia biohazard remediation expert, Triage Restoration, is here to give you the details! Here's how you can avoid the full impact of biohazard exposure:
1. Wash your hands. Simple enough, right? You'd be surprised at how many people neglect washing their hands on a regular basis. You never know when you've picked up an infection! So while you shouldn't let washing your hands become an obsessive-compulsive behavior, you should still be aware of what you're touching and when it's time to sanitize. Practice personal hygiene and wash your hands often, as this is the best way to prevent transmission of an infection.
2. Protect your hands. For more serious biohazards, wear gloves, and be sure to bandage any cuts or sores that are on your hands before putting the gloves on.
3. Decontaminate. It's extremely important to decontaminate areas that have been affected by biohazardous material. Without proper decontamination, you're allowing pathogens to spread and infect the air you're breathing.
4. Keep your immunizations up-to-date. If you've received proper immunizations, you will most likely fare better when exposed to biohazardous material. However, even the healthiest individual is still at risk for illness.
5. Don't forget fans and ventilations systems. Make sure any equipment that could harbor biohazards, such as your HVAC system, is maintained and sterilized frequently.
6. Dispose of biohazardous waste safely. We can't stress this one enough! If you're going to clean up biohazardous material on your own, make sure you do it properly. Wear gloves and a mask if necessary, and dispose of items in a biohazard bag that will then go to an EPA-approved waste recycling facility.
With that being said, we highly recommend calling a Philadelphia biohazard remediation company to clean up dangerous messes, such as: crime scenes, blood and body fluids, MRSA infected areas, and hoarder homes. To learn more about the biohazard remediation Philadelphia property owners rely on to protect their health, call (215) 399-9590, or fill out our contact form.