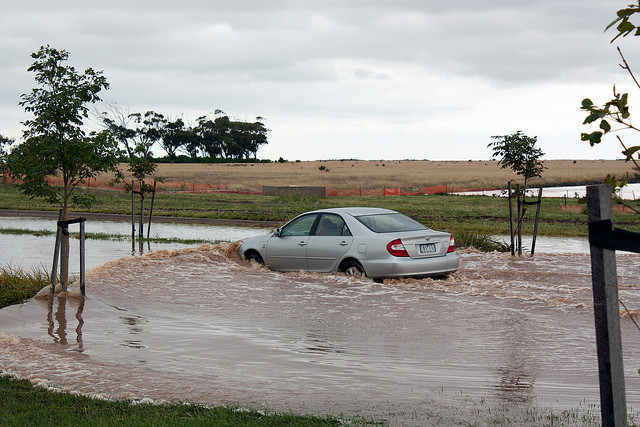 Photo Credit: Rexness
Did you know that no region in our country is safe from flooding? Each state in the U.S. can suffer from flash floods, which means that every home in the U.S. can suffer from water damage. You may live in an area that is less susceptible to flooding, but that doesn't mean you shouldn't know the facts and be prepared. Your dependable Philadelphia water damage cleanup company will supply you with the details!
Here are some flood facts you should know:
Aside from wildfires, floods are the most widespread natural disaster.
Communities that are located in low-lying areas near water, or downstream from a dam, are most at risk for flooding.
Flash floods can bring about walls of water that are 10 to 20 feet high.
New land development can increase the risk of flooding, especially if the new land changes natural runoff paths.
A car can be picked up in as little as two feet of water. How scary is that?
Here's how you can keep you, your home, and your family safe:
Create an emergency kit and go over safety plans with your family on a regular basis — this is a good idea for any natural disaster or emergency situation.
Stock up on water bottles, non-perishable food, first-aid items, and personal hygiene necessities. You might also want to get a battery operated radio to listen to weather reports.
If you live in a high-risk flood zone, make sure you have flood insurance. Flood damage isn't usually covered by homeowner's insurance, so flood insurance can be a lifesaver.
When the flood hits, go to the highest ground in your house.
Don't touch flood water, because it could contain harmful materials, such as gasoline, oil, or raw sewage.
Elevate your furnace, water heater, and electric panel, to protect these appliances and protect yourself from electrical issues and injuries.
There's only so much you can do to prepare your home for a flood, and you can never completely protect it from damage. When you need water damage cleanup in Philadelphia, Triage Restoration is just a phone call away! Our water services include: flood cleanup, emergency water extraction, sewage cleanup, professional deodorization, drying and dehumidification, and anti-microbial application. For more information about the most trusted Philadelphia water damage cleanup company, call Triage Restoration at (215) 399-9590, or fill out our contact form.