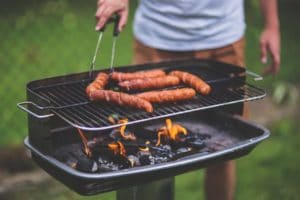 A Saturday afternoon of grilling or a night spent by a bonfire can be loads of fun, but there is always risk with open flames, so it's important to participate in these activities with care.
The Philadelphia fire damage remediation experts at Triage Restoration have some tips to share to ensure you're using your backyard safely this spring and summer:
Keep children at least three feet away from any open flames, and never let them near a lit grill, bonfire or fire pit unattended. Additionally, teach children about fire safety basics such as the "stop, drop and roll" technique and how to call 911.
Propane and charcoal barbecue grills should only be used outdoors. Keep the grill at a distance from your house, as well as other structural features like deck railings. These measures will help you avoid requiring expensive fire damage remediation of your Philadelphia home.
When using a propane barbecue grill, be aware of the possibility of gas leaks. You can check your gas tank hose for leaks by applying soap and water to the hose. If the hose has leaks, the propane will create bubbles. If you smell gas while using your grill, stop cooking immediately, back away from the grill, and call the fire department for assistance.
When lighting a fire pit or bonfire, do not use soft woods such as cedar and pine as fuel, as they are likely to spark. Additionally, avoid burning yard waste such as leaves and grass clippings. While this may seems like a good way to recycle, the smoke such yard waste creates can exacerbate health conditions like asthma and emphysema. Staring a fire with yard waste may even be illegal in your community—check out your local regulations to be sure.
Triage Restoration: The Leading Name in Philadelphia Fire Damage Remediation
Triage Restoration's trained, certified, experienced technicians will quickly and effectively restore your property after a fire.  Our services include smoke odor removal, soot removal, professional deodorization, and structural repair.
Interested in hiring us for fire damage remediation in Philadelphia? We can be reached at 215-699-9590 or online via our website. Contact us today to learn more about our services and our competitive rates.