Whether your neighborhood is suffering the results of a bad storm, or you've had a busted water main flood your property, it can be overwhelming to contemplate the next steps: cleanup, remediation, and restoration. Unfortunately, among the qualified Philadelphia water damage restoration contractors are scammers and unlicensed workers who will try to prey on those experiencing disaster. But you don't have to be taken unawares in a time of need–Triage Restoration and the Better Business Bureau recommend that you follow these steps to protect yourself, your property, and your wallet.
4 Ways to Protect Yourself from Philadelphia Water Damage Cleanup Scams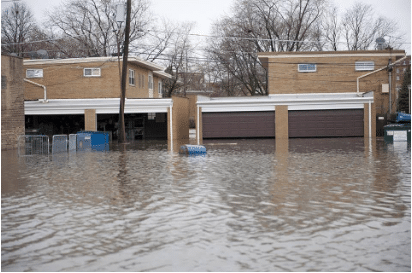 Be skeptical of anyone who knocks on your door, claiming to be a representative of FEMA, sent by the local utilities or government, or if they offer discounted water damage restorations. Government workers will always carry ID, and will never, ever ask you for money. There are no fees associated with FEMA assistance. As for those offering quick fixes or discounted rates: legitimate, licensed contractors rarely solicit business door-to-door, but scammers will travel to disaster areas and pose as legitimate contractors. Don't just take anyone at their uniform. Double-check the business name with the BBB or your local FTB.
Get at least three estimates, in writing. This way you can protect yourself from price-gouging (which is illegal) and make sure you get the best rate for services. By getting an estimate in writing, you protect yourself against later price hikes or "misunderstandings." You should also get all guarantees in writing, with a written contract, before any work begins. This should include a detailed list of all work to be performed, who will obtain any permits required, a complete pay schedule, estimated completion date, and the contractor's policy on renegotiation of rates or disputes.
Always ask your Philadelphia water damage remediation contractor for proof of insurance. Follow up with their insurance company to make sure their policy is current.
Always pay with your credit card or check, and never deliver your final payment until the job is completed. This includes cleanup of materials.
Triage Restoration: The Reliable Philadelphia Water Damage Restoration Contractor
When you're in a crisis, you need help from someone who's on your side, who knows what needs to be done and how to do it, quickly and effectively. Triage Restoration is an experienced Philadelphia water damage remediation specialist, locally owned, community-minded, and fully licensed by the following agencies:
Pennsylvania Home Improvement Contractor #PA058874
Environmental Protection Agency (EPA) NAT #38974-1
Institute of Inspection Cleaning and Restoration Certification (IICRC) Company #204718
Indoor Air Quality Association (IAQA) ID #1261860
Women's Business Enterprise National Council (WBENC) #2005117794
Our motto is: Respond Compassionately. Plan Efficiently. Restore Peace of Mind. When you call us for help, we will respond with understanding regarding your stressful circumstances; plan efficiently to "triage" your property quickly and effectively, providing whatever services are required; and we will restore your peace of mind by restoring your property to its pre-loss conditions as quickly as possible, communicating with you throughout the process. We're ready for your call, 24 hours a day. Lean on us, and we'll help you get your life or business back to normal.