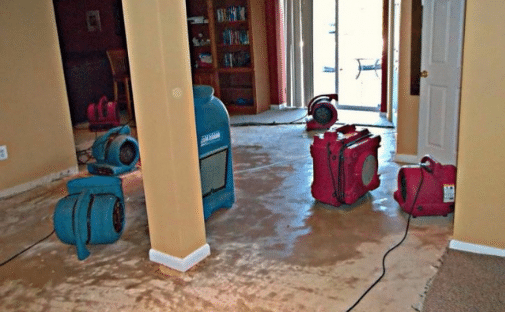 Water damage can be a major headache. Sometimes, though, the destruction may not seem too bad, and you're tempted to take on the cleanup yourself. Before getting in hot water, take a look at these three misconceptions about Philadelphia water damage cleanup.
All I need is do is rent a de-humidifier.
You can probably rent a dehumidifier at your local hardware store, but getting the water out of the room is only one step for Philadelphia water damage cleanup. There might be further structural damage, mold contamination, or discoloration to be assessed and repaired. Only a professional will know how to identify and fix these issues properly, ensuring your home or property is properly restored.
Unlike fire damage, water damage is safe for non-professionals to cleanup.
Did you know that there are three types of water that you can encounter in your home? Only one is safe for laypersons to encounter.
Clean water. This is the kind of water that comes out of your sink—safe to drink or bathe in. However, when it escapes its normal bounds, it can transform into "grey water."
Grey water. This water is contaminated. It might come from your sump pump, toilet, or standing pools, and contains harmful bacteria.
Black water. Black water contains raw sewage, chemical toxins, heavy metals, or other hazardous contaminants, and should never be touched under any circumstances.
If your home has been contaminated by grey or black water, you should absolutely call a trained professional to assist with your Philadelphia water damage cleanup. In addition to the risks of dirty water, there is the risk of structural or electrical damage to consider. You and your family's health are not worth risking.
I can perform all of the required cleanup myself.
You may be handy, but do you know how to safely disinfect carpet or wood flooring that has been in contact with black water? Do you have access to the most efficient dehumidifiers or dessicants? Do you have the equipment to measure the moisture levels in a flooded basement and know—know—that it's completely dried out and in need of no further treatment?
In the long run, getting your Philadelphia water damage cleanup done right—by a professional team with the experience, training, and equipment to do it properly the first time—will not only save you money, but peace of mind. At Triage Restoration, our certified team will walk you through the process of water damage restoration, explain your options, and provide you with the quickest, most cost-effective cleanup and repair available. We will always listen to your concern, answer your questions, and give you our best effort. For more information regarding our water damage or other restoration services, check out our website, or contact us through the info below. We're available 24 hours a day.
Email: info@triagerestoration.com
Tel: (215)-399-9590
Toll Free: 1-(877)-559-7876